Q sent us an information warfare message in post 4611: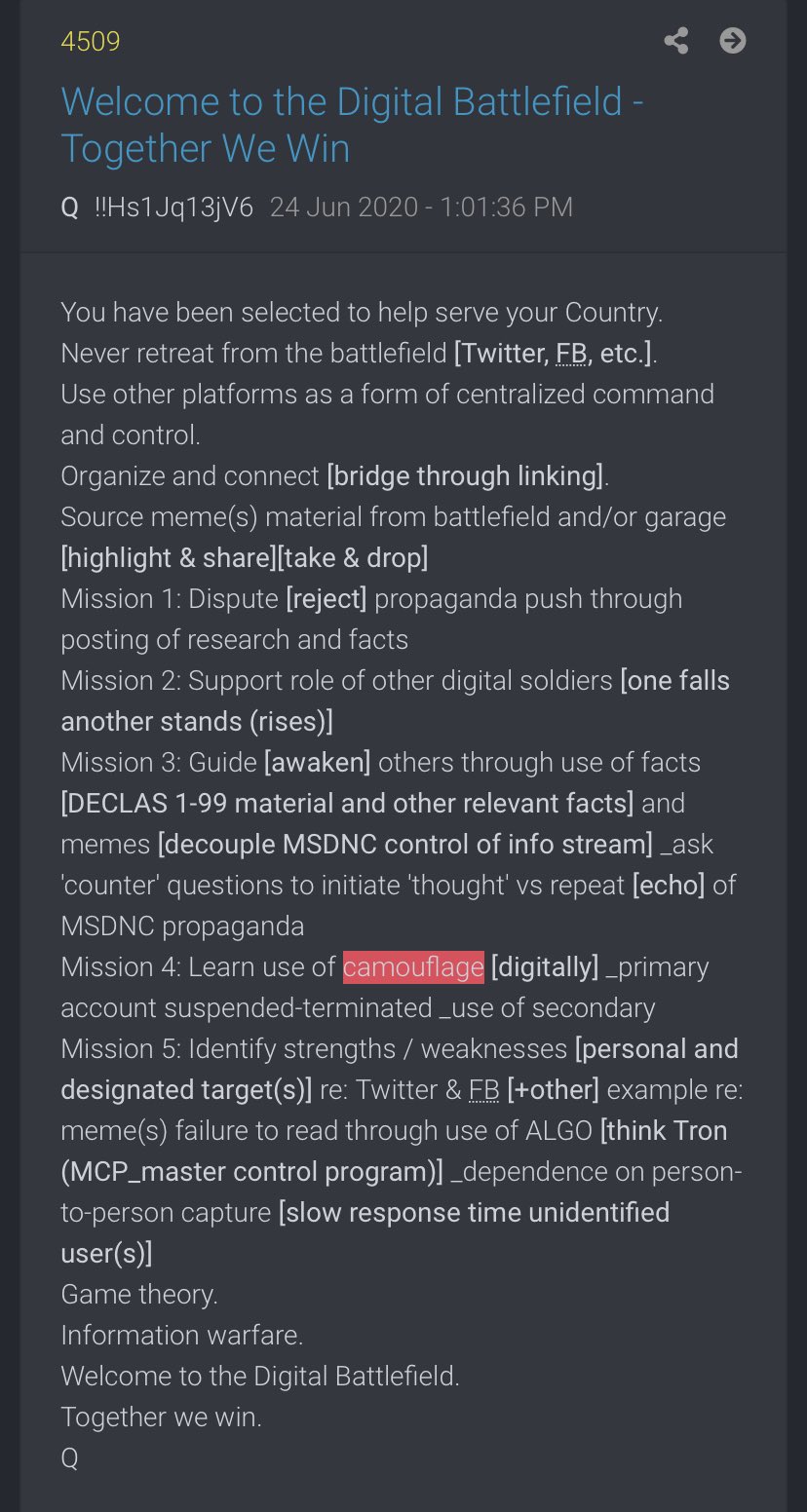 Camo. Okay, that means using other ways to express QAnon. Do we like "17" or P_R or maybe a different spelling? Cue and queue could work maybe.
I'm wondering if this shouldn't be VSGPDJT's theme song after all the attempts to take him out one way or another.
Otherwise, POTUS is starting to remind me of a savvy Tweety Bird or Road Runner outwitting Sylvester and Wyle E. Coyote. No matter what the other side tries, POTUS side steps it.
Meep Meep.
_______________________________________________
As usual, this is the daily thread, the place to put all information that needs to be out there – Q drops, Q drop decodes, riot information, rumors about MAGA rallies starting up again, news flashes, Chy-na flu updates, fashionable mask photos, satire, memes, and of course cute animal videos.
In the meantime, the short and sweet version of "THE RULES" is here borrowed from Tuesday:
Guidelines for posting and discussion on this site were outlined by our host, WolfM00n. Please, review them from time to time.
The discourse on this site is to be CIVIL – no name calling, baiting, or threatening others here is allowed. Those who are so inclined may visit Wolf's other sanctuary, the U-Tree, to slog it out.
This site is a celebration of the natural rights endowed to humans by our Creator as well as those enshrined in the Bill of Rights adopted in the founding documents of the United States of America. Within the limits of law, how we exercise these rights is part of the freedom of our discussion.
Fellow tree dweller Wheatie gave us some good reminders on the basics of civility in political discourse:
No food fights.
No running with scissors.
If you bring snacks, bring enough for everyone.
Since it is almost the weekend, the reminders are in place to not swing from the chandeliers, wash your hands and face, and be nice to the liberals whether they deserve it or not. Making your bed, OTOH, is optional.
__________________________________________________
In this reading from the Gospel According to St. Matthew, we find out some things never change.
The disciples approached Jesus and said,
"Why do you speak to the crowd in parables?"
He said to them in reply,
"Because knowledge of the mysteries of the Kingdom of heaven
has been granted to you, but to them it has not been granted.
To anyone who has, more will be given and he will grow rich;
from anyone who has not, even what he has will be taken away.
This is why I speak to them in parables, because
they look but do not see and hear but do not listen or understand.
Isaiah's prophecy is fulfilled in them, which says:
You shall indeed hear but not understand,
you shall indeed look but never see.
Gross is the heart of this people,
they will hardly hear with their ears,
they have closed their eyes,
lest they see with their eyes
and hear with their ears
and understand with their hearts and be converted
and I heal them.
"But blessed are your eyes, because they see,
and your ears, because they hear.
Amen, I say to you, many prophets and righteous people
longed to see what you see but did not see it,
and to hear what you hear but did not hear it."
_______________________________________________________
New phrase: mask-shaming.