I've been meaning to write this piece for a few days, and every day that goes by, something comes up that I'm glad I didn't.
First, a little background music.
Earlier in the week, when Little Tony Fauci, the Don of all things vaccine, was being questioned via video chat by two of his actual peers (Fauci is a medical doctor, or an MD which is a professional degree, not a scientist with a Ph.D after his name) it was very obvious that his physical location, at home, in his office with natural lighting and no sweat, glare, or weird camera angles, was probably the reason he was "self-quarantined." He looked cool as a cucumber, and his peers who were actually asking the right questions from an informed perspective, Senators Rand Paul, MD, and Bill Cassidy, MD, really did not.
In short, the set-up was a psy-op, a way to make the "expert" who has the same educational training as the questioners look like the smart guy in the virtual room.
And then came the flurry of Q drops on Friday, May 15:
4246
Q !!Hs1Jq13jV6 ID: 84eaad No.9184840 
 NEW
Sometimes you can't TELL the public the truth.
YOU MUST SHOW THEM.
ONLY THEN WILL PEOPLE FIND THE WILL TO CHANGE.
Q
4247
Q !!Hs1Jq13jV6 ID: 84eaad No.9185312 
 NEW
Why did [D]s push 'everything is fine' narrative early on [ex: Pelosi China town]?
Why did science board push [no need close China travel] narrative early on?
Why did [select] govs push COVID-19 positive elderly patients into nursing homes [most at risk_proven] when surplus of availability in hospitals [+ USNS_Comfort]?
Why are CDC numbers conflating COVID-19 deaths with influenza, pneumonia, other?
Why are influenza deaths at [all-time] historical low levels vs years past [outside of standard deviation]?
Why are COVID-19 tests returning positive results on pawpaw's and animals?
Why are [select] swing states undergoing heavy quarantine extensions?
Why are possible [treatments][cures] being prevented and attacked [USA]?
"Testing, Testing, Testing, Tracing, and Isolation." – [Pelosi]
Q
4250
Q !!Hs1Jq13jV6 ID: 8ddc3d No.9186868 
 NEW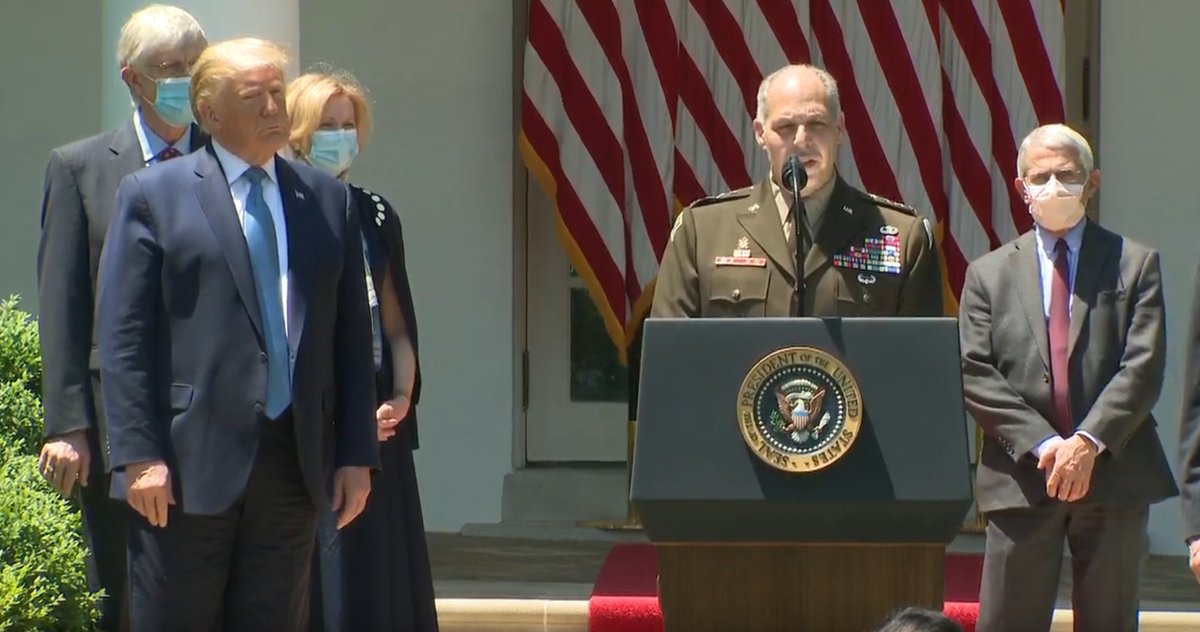 https://twitter.com/ZekeJMiller/status/1261339533905281025
It's time to end the horror show.
It's time to stand [lead by example].
Enough have seen [domino effect].
[note: who wears a mask and who does not]
Q
And with these three drops, why I waited became obvious. It wasn't time yet. (And, yes, I got that message during prayer.)
One little Generation X girl sitting in the Midwest saying what follows won't carry much weight. But Q saying it…that's different.
American Deplorables, the people who are waking up from the complacent sleep safety and security induces, are not – how do I put this – the biggest fans of psychology. Many think it's a bunch of gobbledigook outside of maybe marriage and family counseling. In fact, being psychoanalyzed by, well, just about anybody, doesn't always go over well. However, what the patriots don't realize is that apart from Freud, the cocaine addict pervert, a lot of psychoanalysis is used in our every day lives. And the field that utilizes it most often (and not always for wholesome purposes) is marketing.
This is pretty common knowledge that marketing is essentially applied psychology. (At least, I hope it is.) That being the case, marketing's three arms – advertising, propaganda (known more commonly these days as public relations) and public service announcements – invests heavily in psychoanalysis of various populations any time a product is launched or needs to be re-launched, or a campaign embarkation begins.
Enter an American immigrant from France by the name of Clotaire Rapaille. Rapaille is a known starting point for many of the big boy companies that make and sell items we see and use every day. His client list includes L Brands, General Motors, L'Oreal, and others which are easily recognizable. His method of psychoanalysis research, on the other hand, is unique. Rather than convening focus groups and sending out test samples for commentary to get ideas for an advertising hook, Rapaille interviews a cross section of any one culture on an individual, person to person basis, like a patient talking to a therapist. He does this in three hour sessions, and in the third hour, when the interview subject is good and comfortable, he gets what he wants out of them: the deep memories that invoke the real emotions resulting from the memories.
Those emotions, then, are analyzed for cross-sectional cultural patterns.
It's sneaky, yes, but in a compilation of those memories, themes emerge, and Rapaille is able to distill the themes into code words and phrases which become the deep background basis for the development of advertising campaigns.
For the United States, Rapaille wrote a relatively thin tome that tells of many of his code words relating to our culture. It is titled The Culture Code, and is fascinating reading for those who study culture and motivation.
(Some of the codes are not flattering to a nation that bills itself as the greatest country ever on earth, or one that's based on Judeo-Christian ethics and morals, but that's a result of…well, you'll see. The same tactics used in the manipulation of opinion regarding medicine happened in a good many other areas of life thanks to marketing efforts, and as a result, cultural maturation either stalled or reversed.)
As the weeks of the coronavirus episode in human history have gone on, some of the code words included in the book kept coming to mind, particularly the code word for doctor:
HERO
One of the things about this particular subject that is interesting in the course of Rapaille's book, is that this is one of the few places where there are no stories inserted from the people who were interviewed. It could be that HIPPA rules would be violated if any of that was published, but it's one of the places where that information would be interesting to read, and it is not there.
However, think of the connotations that go with the concept of a hero, the virtues assumed in a heroic figure such as honorable, trustworthy, ethical, etc. And then consider a doctor's attire: a WHITE lab coat. White, in western cultures, is the color of purity. The symbol of medicine, the Caduceus, comes from mythology, and is generally associated with Asclepius, the Greek god of medicine even if it was used in Egypt and other cultures before the rise of Greece in the Classical Era. A physician's language, frequently, includes a lot of Latin as all body parts have Latin names that usually bear no resemblance to those in the vernacular. It makes them sound smart, that's for sure.
The thing is, for anyone who has been around physicians for any length of time and is not part of the industry, the aura surrounding doctors really does not shine as bright as it once did. Yes, there are stellar practitioners of the art of medicine. But, there are just as many who aren't all that bright of bulbs.
It's the way it goes in any field of work. But, when it comes to medicine, the aura is especially artificial. After the Flexner Report in 1910, when the field of medicine was essentially organized by agents of the Carnegie Foundation, the parent organizations took action to shore up what had previously been a fairly shoddy reputation for the profession. From wiki:
The Flexner Report[1] is a book-length landmark report of medical education in the United States and Canada, written by Abraham Flexner and published in 1910 under the aegis of the Carnegie Foundation. Many aspects of the present-day American medical profession stem from the Flexner Report and its aftermath.
The Report (also called Carnegie Foundation Bulletin Number Four) called on American medical schools to enact higher admission and graduation standards, and to adhere strictly to the protocols of mainstream science in their teaching and research. The report talked about the need for revamping and centralizing medical institutions. Many American medical schools fell short of the standard advocated in the Flexner Report and, subsequent to its publication, nearly half of such schools merged or were closed outright. Colleges in electrotherapy were closed.
Homeopathy, traditional osteopathy, eclectic medicine, and physiomedicalism (botanical therapies that had not been tested scientifically) were derided;[2] some doctors were jailed.[citation needed]
The Report also concluded that there were too many medical schools in the United States, and that too many doctors were being trained. A repercussion of the Flexner Report, resulting from the closure or consolidation of university training, was reversion of American universities to male-only admittance programs to accommodate a smaller admission pool. Universities had begun opening and expanding female admissions as part of women's and co-educational facilities only in the mid-to-latter part of the 19th century with the founding of co-educational Oberlin College in 1833 and private colleges such as Vassar College and Pembroke College.
And in a parallel effort to make medicine an "expert" profession, an all out propaganda campaign was put into force positioning medical doctors as the sort of people who can do no wrong. After all, they were adher[ing] strictly to the protocols of mainstream science in their teaching and research. Articles were placed in mainstream publications with physicians cited as experts. Advertisements quoting physicians gave credence to claims. Later, movies and television shows depicted physicians curing people without always showing losses. Companion medical arts such as chiropractic and alternatives to mainstream media presentations of medicine were (and are) almost ALWAYS ridiculed as "witch doctor" efforts.
In entertainment offerings, medical doctors always seem to have an answer – and most of the time, it's the right one.
Because, science and all.
(Even if Osteopaths get the same education as MDs, but practice with a different approach, and chiropractors educated by the original school founded by D.D. Palmer know the nervous and skeletal systems far better than more than one orthopedist I saw in my youth.)
And that being the case…Americans trust medicine, and the parent organizations made up of experts in white coats, the CDC, AMA, etc. – the organizations that control licensing of practitioners.
But that's a topic for another post.
This post is about watching the "HERO" label subconsciously put on medical doctors due to programming and conditioning be shattered as we watch the people who are supposed to be right all the time be wrong.
It has happened as the number of cases of the supposed killer virus have not increased to close to one percent of the population infected – and the numbers are being revised DOWN, rather than up as would be expected.
It happened as front line practitioners gave field reports explaining that the recommended protocol from the professional organizations was not working.
It happened when some of those same front line practitioners used a protocol dismissed by the very people and organizations trusted as "expert" and a cure and it did work to heal the sick.
More shattering of the image came when Senators Rand Paul and Bill Cassidy – both medical doctors like Fauci – questioned him on childhood development needs to ensure the health and well being of the future generations, and he was flippant about any concerns in that area regarding children being in isolation when they should be exposed to the outside world including a whole lot of germs, and learning grade level information.
And that HAD to be demonstrated. Otherwise, the people who have been taught to not think for themselves and defer to "experts" even in the field of medicine, would never believe that medical doctors (and scientists) can be thuggish, greedy bastards all the same as those in any other walk of life. (No profession or calling escapes a sub-set population of these sorts.)
The aura of these people and their methods of treatment – namely vaccines that whistleblowers have called contaminated and have questioned for decades while so many of them died for their efforts – HAD to be exposed for the fraud it is. (Bill Gates being exposed as a globalist eugenicist is a bonus.) The same for "new and improved" medicines that aren't an improvement over the tried and true at all. The fact that the professional organizations and state governors are forcefully keeping the tried and true from patients exposes them for what they are as well.
And THAT is why Little Tony Fauci and Deborah Birx with the fabulous pashmina and scarf collection have not been fired. They, the two "experts" who got the entire country to dance to their tune which resulted in not patient waiting it out by the people who are supposed to be horrified by so many people dying of this disease (which is not happening), but waking up the sleeping giant, are being proven to be no more reliable than TV weathermen. We the People had to be shown that fraud in real time, and along with it, that science can be manipulated to make the results say whatever the researcher wants them to, or else millions of normies would never believe it.
If it didn't happen this way, we'd still be blinded by all the talk that's nothing more than having a really extensive vocabulary.