The Border Patrol agents are doing a fantastic job getting rid of the migrants that are illegally crossing into our country in less than two hours.
This policy will be around for a long time. Our President understands the importance of it.
Judges will have every opportunity to clear the backlog on asylum requests. Detention centers will eventually have no one inside of them. ICE can begin to track down those illegals that haven't shown up for their court cases. This will allow us to reduce the total numbers in our country.
The Wall will continue to be built. By the time this policy concludes, it will be nearly finished.
From the article linked above:
Migrants who cross into the United States illegally are being expelled to Mexico in an average of 96 minutes under emergency coronavirus measures now in force across the U.S. southern border, according to three U.S. officials with knowledge of thelatest government statistics.
The pandemic has allowed the U.S. Border Patrol to implement the kind of rapid-fire deportation system President Trump has long extolled as his preferred approach to immigration enforcement.
Under the new rules, U.S. agents are processing migrants from Mexico, Guatemala, El Salvador and Honduras "in the field" before they are able to set foot inside a U.S. Border Patrol station. The migrants are then whisked back to the border and sent into Mexico.

I love the fact that our President tweeted this! The POS is proven wrong once again.
Even the POS Mayor of NYC had to give credit where credit is due.
I love the fact that Fake News continues to try and lie so openly to Americans. The more they do so, the more Americans awaken to the fact that they truly are the Enemy Of The People.
From the article linked above:
CBS News admitted to a "mistake" on Monday after airing footage of an overcrowded hospital room that was allegedly in New York City but was actually from a hospital in Italy.
"It was an editing mistake. We took immediate steps to remove it from all platforms and shows," a CBS News spokesperson told Fox News.
Last Wednesday, "CBS This Morning" included a brief clip showing several patients and medical professionals in one room during a report about the rising threat of the coronavirus outbreak in New York City.
However, that same footage aired days prior on Sky News.
"This is the main hospital in Bergamo, in Lombardy province. It's one of the most advanced hospitals in Europe," Sky News reported.
SleepyCreepy Joe has an enthusiasm problem that will only get worse. History shows how difficult it is to win a presidential election when there is such a large enthusiasm gap.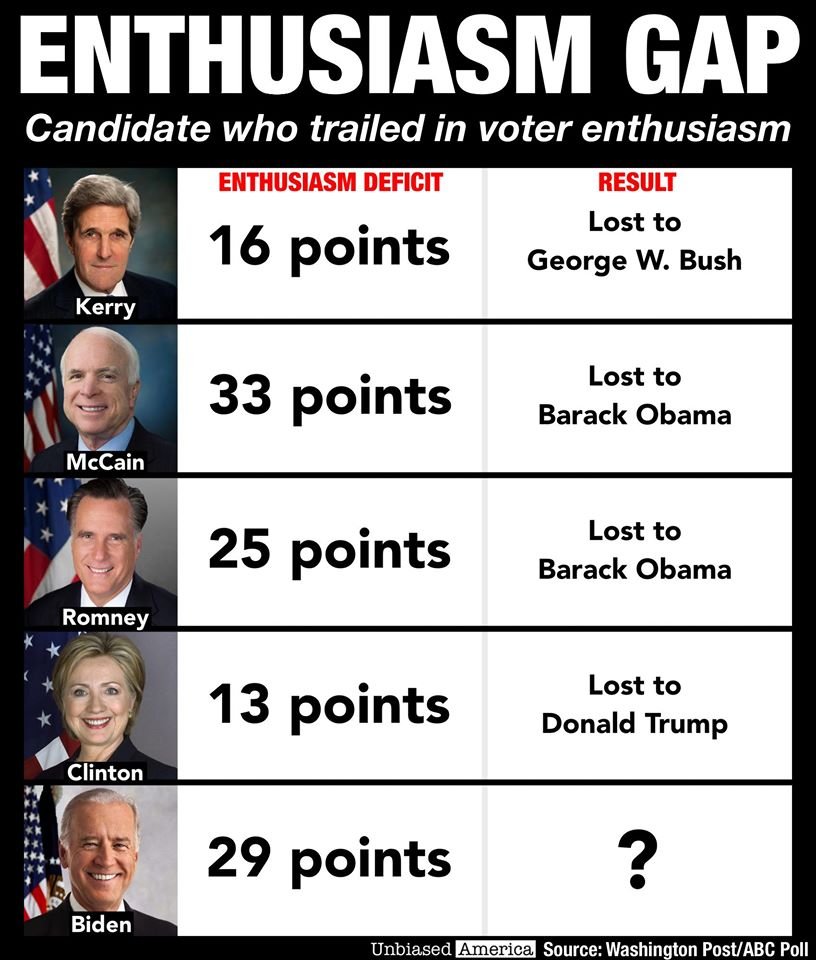 From the article linked above:
[…] Gleaning data from the polls gives a mixed picture. The RealClearPolitics average of polls shows Joe Biden as the favorite in a head to head against President Trump – but those betting on the election have Trump as the favorite. Betting odds have historically had more predictive power in the outcomes of elections than the polls. Part of the discrepancy in this case could be that the polls aren't taking into account voter enthusiasm. Regardless of what the polls said on election day, the candidate with more enthusiasm has always won the past four presidential elections.
According to Unbiased America's Kevin Ryan: President Trump has gained significant ground on Joe Biden in a new Washington Post poll, and has a huge voter enthusiasm advantage over the former vice president.

Despite Biden's slight lead in the polls, the former vice president suffers from a huge enthusiasm gap compared to the president. 86% of registered voters who currently side with Trump say they are enthusiastic about their support for him, 12 points higher than the 74% enthusiasm of Biden supporters.
But, according to the Washington Post, "even more telling is the gap in the intensity of that enthusiasm, which can translate into who turns out to vote and who might not." Among Trump supporters, 55% say they are very enthusiastic about backing him, while a far smaller 28% of Biden supporters say they are very enthusiastic about their candidate. That amounts to a 27 point "strong enthusiasm" advantage for the president.
The Washington Post says that "Biden's current enthusiasm deficit is potentially worrisome for the challenger and his campaign based on recent presidential contests", pointing out each loser of the past three elections suffered from a gap among voters who said they were very enthusiastic.
"Very Enthusiastic" supporter gaps during election year:
• 2020 – Joe Biden: 29-point deficit against President Trump.
• 2016 – Hillary Clinton: 13-point deficit against Donald Trump.
• 2012 – Mitt Romney: 25-point deficit against President Obama.
• 2008 – John McCain: 33-point deficit against Barack Obama.
• 2004 – John Kerry: 16-point deficit against President George W. Bush.
The other issue for SleepyCreepy Joe, the Democrats, MSM, Never Trumpers etc. is that a large percentage of the Bernie Bros will be voting for our President or just not showing up on Election Day.
From the article linked above:
[…] So is this: Among Democrats and Democratic-leaning independents who prefer Vermont Sen. Bernie Sanders for the nomination, 15% say they'd back Trump over Biden in the fall.

[…] Further, among Sanders supporters who say they'd vote for Biden in November, a mere 9% are very enthusiastic about doing so. More, but still only 49%, are "somewhat" enthusiastic.

The other issue is that Americans get to see with their own eyes and ears that SleepyCreepy Joe is missing a few marbles upstairs.
Our President and the Coronavirus Task Force held a press briefing yesterday with the latest updates and information.
[Video and Transcript Below]
https://publicpool.kinja.com/subject-remarks-by-president-trump-and-members-of-the-1842571909
Here are some shorter video clips:
God bless Mike Lindell!
Governor DeSantis and his wife Casey welcomed the newest addition to the family.