Treasury Secretary Steven Mnuchin discusses the steps the White House is taking to mitigate economic loss being felt by businesses and workers. The U.S. economy has in many ways been shut down in an effort to deal with the spread of the Coronavirus; there are worries that parts of the economy may never recover if a rescue package doesn't quickly reach businesses and workers.
Mnuchin helped design a relief bill to protect the economy and U.S. workers and ensure the economy is able to restart quickly. Democrats are blocking proactive the emergency bill to take advantage of the crisis with demands unrelated to economic needs.
The Democrats are holding our country hostage to pass radical proposals in the Phase 3 bill.
Senator Tom Cotton walks through some of the items the Democrats are demanding before they will allow economic relief to U.S. companies and workers.
Here are two excellent threads with even more details of the crap 💩 Pelosi and Democrats are trying to pass.
At this point in time, Republicans and our President need to hold the line rather than give in to their demands that will destroy our country and our lives.
Today is the day! Governor Cuomo of New York will begin using hydroxychloroquine and Az on patients that are inflicted with the Coronavirus.
Our President tweeted the following yesterday:
From the article linked above:
A Florida man diagnosed with coronavirus claims he was saved from certain death by an anti-malaria drug touted as a possible treatment by President Trump.
[…] After more than a week, doctors told him there was nothing more they could do and, on Friday evening, Giardinieri said goodbye to his wife and three children.
[…] Then a friend sent him a recent article about hydroxychloroquine, a prescription drug that's been used to treat malaria for decades and auto-immune diseases like lupus.
RIGHT TO TRY

[…] Giardinieri said he contacted an infectious disease doctor about the drug.
"He gave me all the reasons why I would probably not want to try it because there are no trials, there's no testing, it was not something that was approved," said Giardinieri.
"And I said, 'Look, I don't know if I'm going to make it until the morning,' because at that point I really thought I was coming to the end because I couldn't breathe anymore," Giardinieri continued.
"He agreed and authorized the use of it and 30 minutes later the nurse gave it to me."
[…] He's since had no fever or pain and can breathe again. Giardinieri said doctors believe the episodes he experienced were not a reaction to the medicine but his body fighting off the virus.
Giardinieri, the vice president of a company that manufactures cooking equipment for high-end restaurants in Los Angeles, said he had three doses of the medicine Saturday and is hoping to be discharged from the hospital in five days.
"To me, there was no doubt in mind that I wouldn't make it until morning," said Giardinieri. "So to me, the drug saved my life."

Governor Cuomo understands that at some point in the very near future, life has to return to normal.
From the article linked above:
With New York City at a standstill, two of its most famous sons are getting a little antsy about getting things back to normal. The simple fact of the matter is that endlessly extending self-quarantine and a zero non-essential workforce is not a sustainable model. Can we do it for a few weeks? Maybe. Can we do it for several months? That gets real dicey real fast. President Donald Trump and Gov. Andrew Cuomo understand this.
The president has been criticized for tweeting about reassessing at the end of the White House's "15 Days to Slow the Spread."
But in many ways it is echoed by what Gov. Cuomo said in today's press conference. "I take total responsibility for shutting off the economy in terms of nonessential workers, but we also have to start to plan the pivot back to economic functionality. You can't stop the economy forever," he said.
[…] Whether they can pull it off or not, Trump and Cuomo deserve praise for looking for the off-ramp to total isolation and economic disaster. It's a conversation that has to be had whether people find it distasteful or not. It is leadership and is the thing we need right now more than anything else.
I agree with Martin and have been saying something similar for the past week.
This tweet to Robert Barnes put me at ease yesterday.
Meanwhile this is the man that the Democrats, MSM, Leftists, Never Trumpers etc. think should run our country.
Americans are realizing that our President is doing everything he can to protect us from this virus. We are seeing that in national and statewide polls. Here is North Carolina:
The Democrats are going to go extinct if they continue down their current trajectory. Americans are realizing that our President has their best interest at heart.
From the article linked above:
A majority of American voters say they believe the Trump administration is taking strong enough measures to combat the coronavirus pandemic, according to a new survey.
Sixty-one percent of registered voters said they strongly or somewhat agree that the Trump administration is taking strong enough measures to slow or stop the spread of COVID-19, while 39 percent said they strongly or somewhat disagree.
More signs coming out of Minnesota that our President can win the state in November.
From the article linked above:
[…] And that's forced people in Ely and Minnesota's Iron Range region to think again about who are its protectors and defenders.
A place that once gave Democratic native sons Hubert Humphrey and Walter Mondale 4-1 voting wins and considers the late Sen. Paul Wellstone a local hero has begun to embrace a president who bears little resemblance to them, except that he reversed the "injustice" of an Obama-era order that would have brought the nickel-copper project to a 20-year standstill. On top of that were the 25 percent tariffs Trump imposed on most foreign steel, which provided an initial boost to the 5,000 miners still employed in the region's numerous iron-ore mines that have served as the backbone to the region's economy.

[…]Johnson estimates that about 75 percent of his membership supports Trump.
Trump's appeal to the "forgotten people" has resonated with a population that has seen the iron-ore mining industry go through decades of boom-bust cycles that have led to mass layoffs, a declining population and a growing sense of survivalism.
[…] He was the sole person from his voting precinct in Hibbing to show up to a late-February caucus night for Democrats, known in Minnesota as the Democratic-Farmer-Labor Party. A paltry crowd of 35 people representing 10 precincts in a city of 16,000 showed up to the event.

From the article linked above:
At least 114 U.S. deaths were in New York State
At least 95 U.S. deaths were in Washington State
35 of total U.S. deaths occurred at the same Washington State nursing home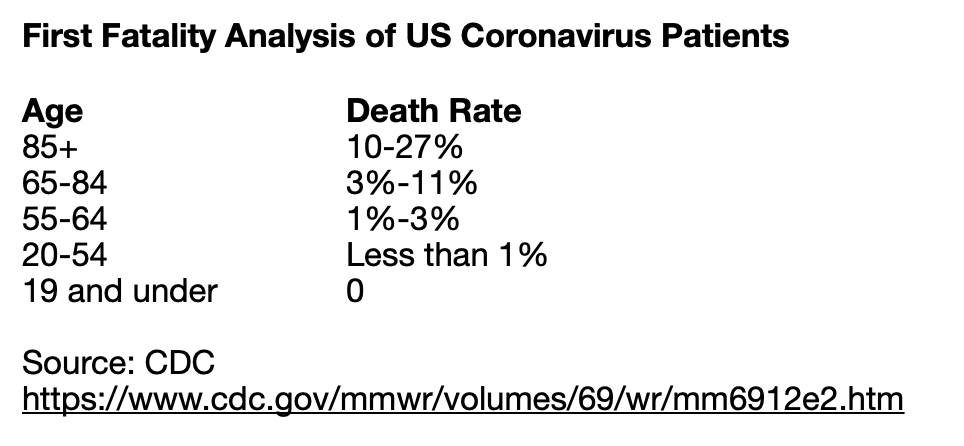 Our President and the Coronavirus Task Force held a press briefing yesterday with the latest updates and information.
[Video Below]
Here are some shorter video clips:
I know and the majority of Americans know that we have the perfect leader currently in the White House.