Yesterday our President and FLOTUS departed the White House heading to Ramstein Air Base in Germany on the first leg of their trip to India. Our President paused to answer a variety of questions from the media.
[Video and Transcript Below]
https://publicpool.kinja.com/subject-remarks-by-president-trump-before-marine-one-d-1841877036
Senator Tom Cotton is vindicated after the Chinese Communist Party (CCP) admits to an internal report showing the Coronavirus did not originate from the Huanan food market as they initially stated.
Senator Cotton has previously questioned the origination claim because there is a level-4 biological weapons lab in Wuhan, China, where the Huanan market is located.
From the article linked above:
A new study by Chinese researchers indicates the novel coronavirus may have begun human-to-human transmission in late November from a place other than the Huanan seafood market in Wuhan.
The study published on ChinaXiv, a Chinese open repository for scientific researchers, reveals the new coronavirus was introduced to the seafood market from another location, and then spread rapidly from market to market. The findings were the result of analyses of genome-wide data, sources of infection and the route of spread of 93 samples of the novel coronavirus collected from 12 countries across four continents.
The study believes that patient zero transmitted the virus to workers or sellers at the Huanan seafood market. The crowded market facilitated the further transmission of the virus to buyers, which caused a wider spread in early December 2019.
Former Acting DNI Joseph Maguire did not brief the White House prior to taking Shelby Pierson, the person in charge of evaluating intelligence regarding election security, to lead the presentation to the House Intel Committee (HPSCI). That's the key takeaway from a taped preview of National Security Advisor Robert O'Brien on Face The Nation.
Here is the full interview:
Ambassador Grenell is already paying off in his new position!
He asked the intelligence community, specifically Shelby Pierson, to produce the underlying intelligence within the briefing she gave to the House Intelligence Committee.
The POS was caught and they are already backtracking. Anonymous intelligence officials are reporting to CNN that Ms. Pierson "overstepped" her position, was "misleading" in her briefing and "mischaracterized" the underlying intelligence.
From the article linked above:
The US intelligence community's top election security official appears to have overstated the intelligence community's formal assessment of Russian interference in the 2020 election, omitting important nuance during a briefing with lawmakers earlier this month, three national security officials told CNN.
The official, Shelby Pierson, told lawmakers on the House Intelligence Committee that Russia is interfering in the 2020 election with the goal of helping President Donald Trump get reelected.
[…] "The intelligence doesn't say that," one senior national security official told CNN. "A more reasonable interpretation of the intelligence is not that they have a preference, it's a step short of that.
[…] One intelligence official said that Pierson's characterization of the intelligence was "misleading" and a national security official said Pierson failed to provide the "nuance" needed to accurately convey the US intelligence conclusions.
The Office of the Director of National Intelligence, where Pierson is a senior official, did not respond to CNN's request for comment.

I love the tweet our President sent from Air Force One about Shitty!
What the Democrats, MSM, Leftists, Never Trumpers etc. hate the most is to be ridiculed. Our President is a master at it.
Here is the latest view inside the stadium that our President and PM Modi will be speaking in.
From the article linked above:
President Trump is headed to India for a huge rally with Indian Prime Minister Narendra Modi on a visit meant to highlight the relationship between two countries that have become strategic allies in recent years.
Trump may address the largest crowd he ever has on Monday before he and members of his administration attend a set of Tuesday meetings, concluding with a state dinner.
Here's what we know about Trump's trip to India:
1) He may address a crowd of about 110,000 at his Monday rally
2) Trump and First Lady Melania are joined by a 12-person delegation
3) It's unclear if there will be any big policy announcements
4) Trump will visit one of the most important Indian cultural landmarks
5) India has been cleaning up its streets and rivers ahead of Trump's visit
The Establishment Democrats, DNC and MSM know that having Crazy Bernie become the Democrat nominee will cause an absolute bloodbath in down ballot elections.
The problem for them is that they can't stop him!
James Woods absolutely nails it in this tweet:
When it rains, it pours!
From the article linked above:
[…] Sanders holds a 16-point lead over his closest competitors in Wisconsin, based on the University of Wisconsin-Madison survey.
Sanders has 30 percent support in the battleground state, pollsters found. The rest of the top-top Democratic candidates are lumped together within 1 percentage point of each other. Former Vice President Joe Biden and Former New York City mayor Michael Bloomberg both register 13 percent support in Wisconsin, while Sen. Elizabeth Warren (D-Mass.) and former South Bend, Ind., Mayor Pete Buttigieg trail closely behind with 12 percent support apiece.
Sanders, meanwhile, has a 9-point lead over his closest competitor in Michigan, at 25 percent support.
Biden is in second in Michigan, at 16 percent, trailed by Warren and Bloomberg at 13 percent each, based on the poll. Buttigieg is behind them at 11 percent, with Klobuchar trailing at 8 percent.
Here is the most recent update from the Nevada Caucus: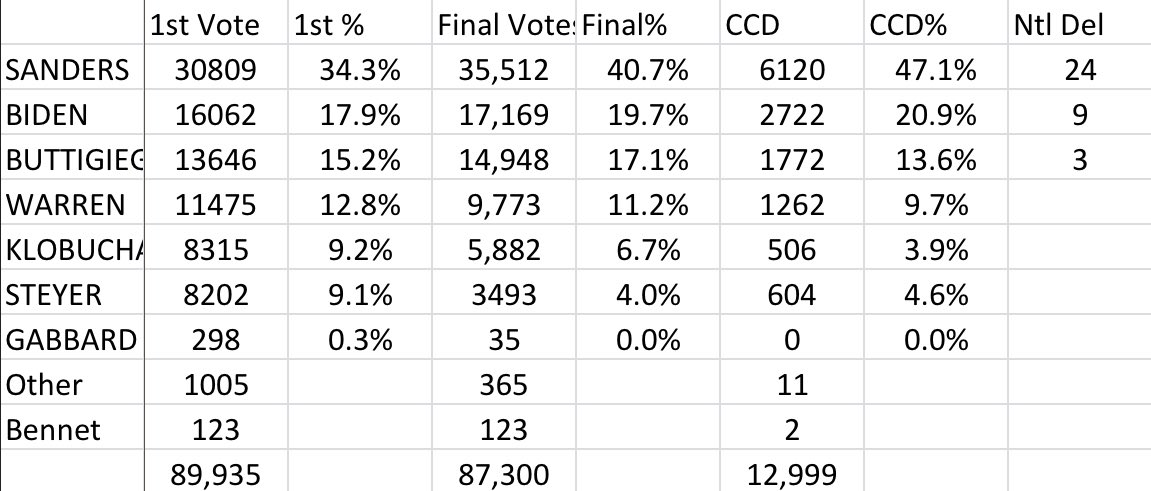 Democrats, MSM, Leftists, Never Trumpers etc. have an even bigger problem than Crazy Bernie becoming the nominee. There is no enthusiasm to get out and vote.
The other major problem for them is the number of rally attendees that didn't vote (nonvoters) in 2016 that will vote for our President in 2020.
Politico is sounding the alarm!
From the article linked above:
Conventional wisdom is that those who stayed home in 2016 cost Hillary Clinton the election and if Democrats can just increase turnout in 2020, they'll defeat President Donald Trump in November. That assumption is likely wrong.
Report after report has shown that nonvoters nationwide prefer Democrats over Republicans. But new data from the Knight Foundation suggests that if every eligible adult voted in 2020, Democrats would likely increase their popular vote lead from the 2016 presidential election—but still lose the Electoral College.
In the closest battleground states, more nonvoters say they're likely to support Trump, if they vote, than support the Democratic Party's nominee. And that could have serious implications for the two major parties' traditional approaches to getting people to the polls on Election Day.
This chart grasps exactly why TRUMPISM will reign for 50+ years!
Wisconsin continues to trend beautifully RED!
Our President is absolutely right!