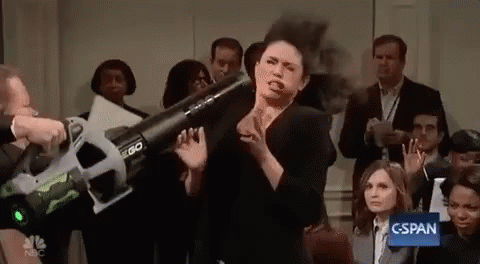 Yes, it's that time of year again. Time to get out the leaf blowers and REALLY annoy the neighbors. Some people still rake, but there are many who prefer the efficiency of a motor…or they just like talking frogs.
Let's see…mood music…what to play, what to play….
Admit it, you clapped along.
Okay, so here's the deal. This is the open thread. This is where we all come to get the news that other Q tree inhabitants think is worth knowing and sharing. Please, post links to any "news" stories quoted, and ask for help if you are stumped as to how to do that. We're a friendly lot. Someone will be with you shortly, and there is no reason to have to press one for English.
Free speech, and the open exchange and hashing out of ideas is not only allowed, but encouraged. If we all don't use it, we're going to lose it. A little incivility goes a long way, though. Everyone here has closely held convictions and values. Stepping on them might result in something like this:
There is absolutely no reason for infighting to result in burning down the tree, house up in the branches and all. Please, keep the tail feathers tucked and avoid lifting legs on the fire hydrants.
And now for some house keeping:
There are a few rules here in the branches of the Q Tree. Our host, Wolfm00n, outlined them in a post on New Years Day. Please, review these rules from time to time, like when waiting for the hot water to hit the shower two floors away.
Fellow tree dweller Wheatie gave us some good reminders on the basics of civility in political discourse:
No food fights.
No running with scissors.
If you bring snacks, bring enough for everyone.
Steve suggests – to be accurate – no shooting at the nuclear weapons, but to be safe about it, don't event point firearms toward them. I, Deplorable Patriot, bossy chick that I am, request no teasing the animals, pets and wildlife alike.
Teasing and trolling the lefties and their bastions, on the other hand is a moral imperative.
__________________________________________________
In the eternal fight against the forces of evil and darkness, unceasing prayer is always needed.
Today's Gospel reading tells us what Our Lord and Savior asks from us in preparation for the fight. From the Gospel According to St. Luke, Chapter 14:25-33.
Great crowds were traveling with Jesus,
and he turned and addressed them,
"If anyone comes to me without hating his father and mother,
wife and children, brothers and sisters,
and even his own life,
he cannot be my disciple.

Whoever does not carry his own cross and come after me
cannot be my disciple.

Which of you wishing to construct a tower
does not first sit down and calculate the cost
to see if there is enough for its completion?

Otherwise, after laying the foundation
and finding himself unable to finish the work
the onlookers should laugh at him and say,
'This one began to build but did not have the resources to finish.'
Or what king marching into battle would not first sit down
and decide whether with ten thousand troops
he can successfully oppose another king
advancing upon him with twenty thousand troops?
But if not, while he is still far away,
he will send a delegation to ask for peace terms.

In the same way,
everyone of you who does not renounce all his possessions
cannot be my disciple."
As always, prayers for the fight against that which seeks to enslave us are welcome.
And now, on to the day's news…..