The past 72 hours or so have been absolutely amazing. So many things are happening in such a rapid pace. The cherry on the sundae this evening will be our President's rally in Grand Rapids, Michigan.
I ABSOLUTELY want that flag!
Rep. Doug Collins of Georgia decided to drop Nellie Ohr's closed door testimony earlier today on the House floor. We are blessed to have Rep. Collins, Gaetz, Meadows, Nunes, Jordan, Gohmert, Ratcliffe etc. fighting each and everyday for our President and our country.
The 4th Quarter real GDP rate was adjusted for the third and final time earlier today. The final real GDP rate was 2.2%. Down from 2.6%.
You can find that report in the link below:
The 2018 Annual real GDP rate measured by the BEA remained at 2.9%. The Q4 2017 to Q4 2018 real GDP rate fell from 3.1% to 3.0%.
The real GDP rates by Quarter in 2018 were as follows:
1st Quarter – 2.2%
2nd Quarter – 4.2%
3rd Quarter – 3.4%
4th Quarter – 2.2%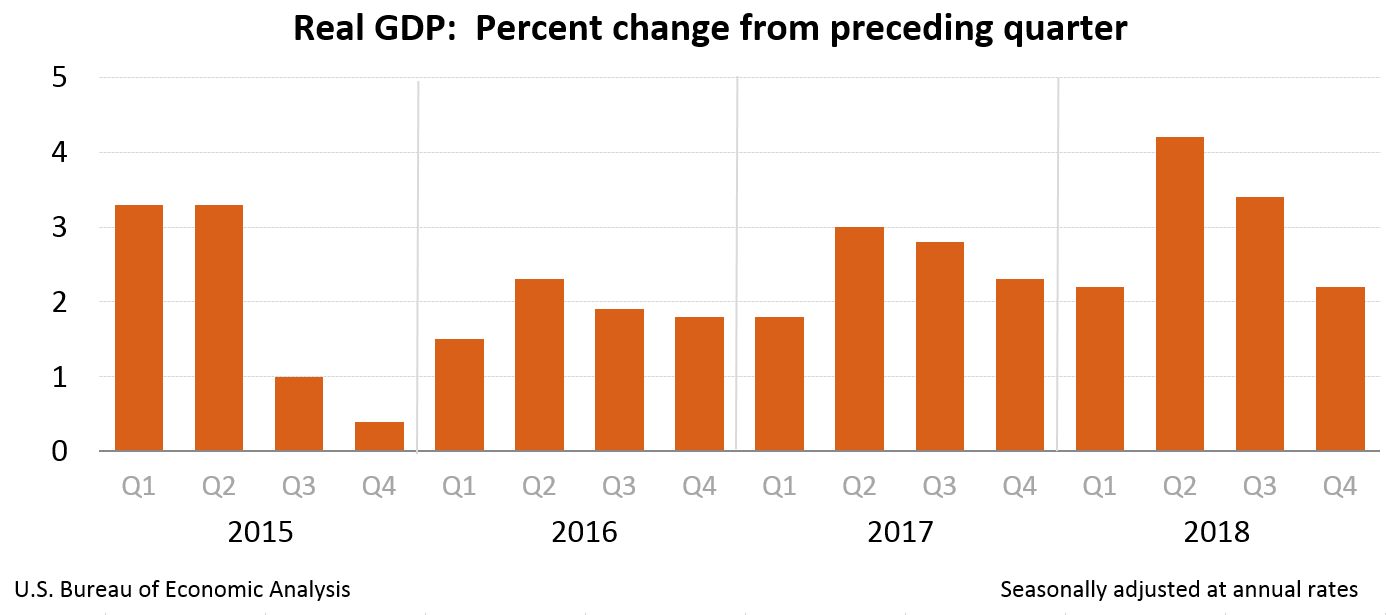 2017 to 2018 (BEA) – 2.9%
Q4 2017 to Q4 2018 – 3.0%
All in all what an incredible year for our country and our President.
I said yesterday we hadn't heard the final word about the Jussie Smollett fiasco coming out of Chicago. Our President tweeted the following earlier this morning.
When you thought this couldn't get crazier, look what the attorney of Jussie is now claiming about the 2 Nigerians.
From the article linked above:
'They could have worn white face': Jussie Smollett lawyer offers bizarre explanation as to why the Empire actor told police his Nigerian assailants were white – and points to old video of one of them wearing make-up to play the Joker as potential proof
Tina Glandian said on Thursday first that it has never been proven it was the Osundairo brothers who attacked Jussie Smollett
Then she said that the reason he told police the attackers were white was because they could have been wearing make-up  
Smollett himself identified surveillance video footage of the pair as the men who attacked him 
His lawyers have not explained why else they would have jumped him unless he told them to, but say they have a 'theory' as to why 
She also claimed it was one of them who told Smollett to go out and get 'eggs' at 2am as part of his nutrition plan
He has always said he went out for a Subway salad because he was hungry after getting home from a delayed flight 
His team insists that there were no conditions to Smollett's charges being dropped and that he performed community service  'because of his character'  
Glandian admitted that prosecutors asked him to forfeit the $10,000 bond but still maintains Smollett 'had to do nothing' 
She insists her office's actions and interactions with prosecutors were above board
Kim Foxx, the Cook County State's Attorney, is facing scrutiny for how she handled the case 
Meanwhile, Adam Schiff is getting absolutely destroyed by our President, his son, Don Jr., Republicans etc. Nancy Pelosi tried her best to support the POS.
This is what Don Jr. in the tweet above is referring to.
Good Ole Nancy to the rescue!
Please watch this incredible video showing where NEW WALL construction is going up in El Paso, Texas. The money is coming from the funds being diverted from the DoD to DHS.
The BLEXIT Movement is continuing to march along!
Our President's approval numbers continue to rise! Back to 50% approval according to Rasmussen (+5% gain in less than a week).
Our President tweeted the following for us to watch.
WINNING FEELS SO GOOD!